A bike computer designed to support all riding styles and goals. Stylish, customisable and value for your money.
Get connected:
Polar Flow web service and app
Follow your routes and see long term development with in-depth analysis.
Polar Coach
Free online tool for your cycling coach to easily create training programmes and follow your progress.
Sensor compatibility
Boost your cycling performance with Polar Bluetooth® Smart sensors: heart rate, speed, cadence and Kéo power. Check compatibility with third-party power meters.
Strava
Sync with Strava via Polar Flow web service coming in the end of 2015.
Click Image To Enlarge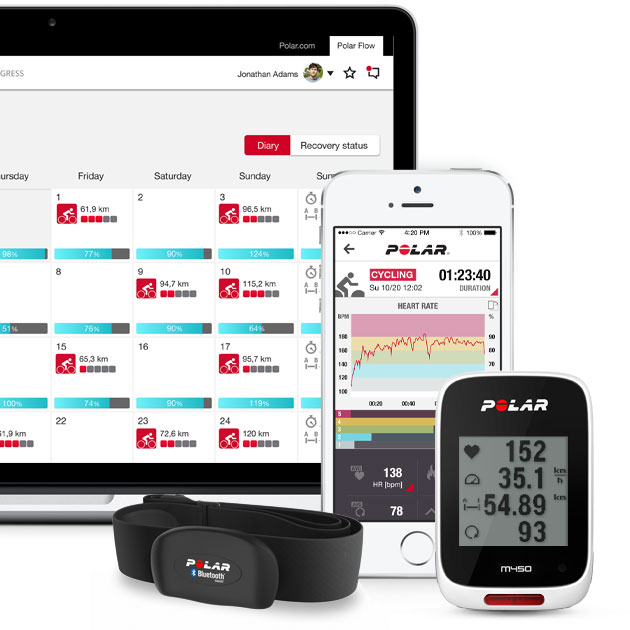 Features:
Gps
Track your speed, distance and route with state-of-the-art GPS powered by a fast satellite connection.
Precision barometer
Integrated barometer to ensure precise altitude functions.
Heart rate guidance
Heart rate is your most reliable fitness indicator. Monitor your heart rate to train effectively.
Tests
Learn to know yourself by measuring your condition and progress with Fitness and Orthostatic Tests.
Training load and recovery time
Find your limits by following your Training Load and learn how much Recovery Time is needed after the ride. Coming soon.
Safety focus
A smart visibility front LED light for your safety.
Specification:
Measurements
Weight - 51g
Thickness - 14,0 mm
(with mount - 19,4 mm)
Display size - 3.5cm x 3.5cm
Splash proof - (IPX7)
Tech
High precision barometer
Sensitive and accurate GPS
64Mb flash memory
35 hours of recording time with HR, GPS and power sensors on
Rechargeable 385mAh battery
Battery duration up to 16 hours of training with heart rate and GPS on
Connectivity
Easy wireless sync via Polar Flow app with Bluetooth Smart
Micro-USB connectivity for charging and data sync with PC or Mac via Polar FlowSync
Splash proof (IPX7)
Polar Flow web service compatibility with Mac OS X 10.6 or later and PC Windows XP, 7, 8.
GPS satellite pre-loading
Compatible third-party power meters (Check third-party compatibility)
Updatable software
UI languages English, Spanish, Portuguese, French, Danish, Dutch, Swedish, Norwegian, German, Italian, Finnish, Polish, Russian, Chinese, Japanese