adidas performance eyewear is engineered with the input of top athletes around four fundamental values: vision, to allow you to see more and remain focused; fit, for a personalised fit to meet your needs; protection, from dangerous sun rays and other external influences such as dirt, rain and wind; and durability, for performance-boosting flexibility and long-lasting performance.
The adidas Adivista sunglasses are crafted with a lightweight red SPX® frame with LST™ (Light Stabilising Technology) active light silver lenses that enhance brightness by turning up the contrast while providing protection in medium light conditions. Patented Traction Grip™ technology to the sides gives perfect stability and comfort thanks to non-slip contact points, while a dynamic wrap-around design provides greater peripheral vision and protection from rain, mud or other foreign bodies.
Designed to fit under the cap with a secure fit ideal for running, cycling and/or triathlons, the adidas Adivista sunglasses are complete with signature adidas branding to the hinges. – L.R.
Contents:
adidas Adivista sunglasses
Microfibre bag
Hardcase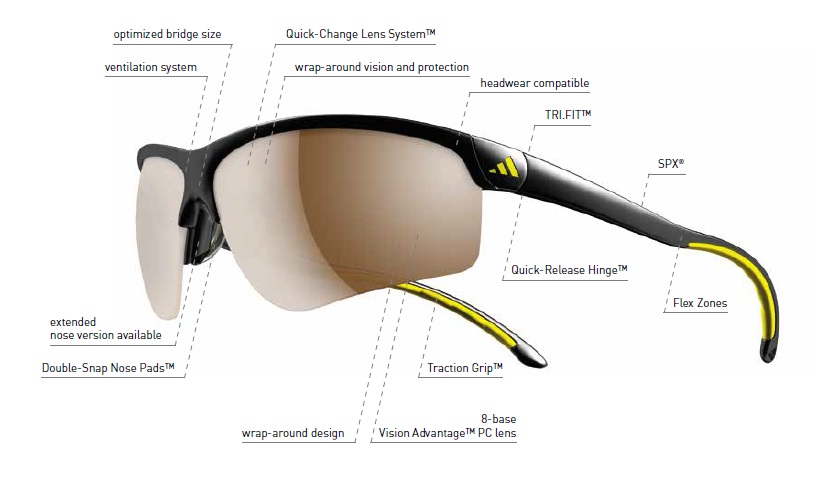 Key Features:
Lightweight SPX™ frame
LST™ active light silver lenses
Traction Grip™ technology for a stable, comfortable fit
Wrap-around design for enhanced vision and protection
8-base Vision Advantage™ PC lens
Headwear compatible
For more information on the technologies offered by the adidas Adivista sunglasses detailed in the diagram above, please Click Here.
Please Note: The image above is included solely to demonstrate the different technologies offered by the adidas Adivista sunglasses. Please refer to the product images for the correct colours of these sunglasses.